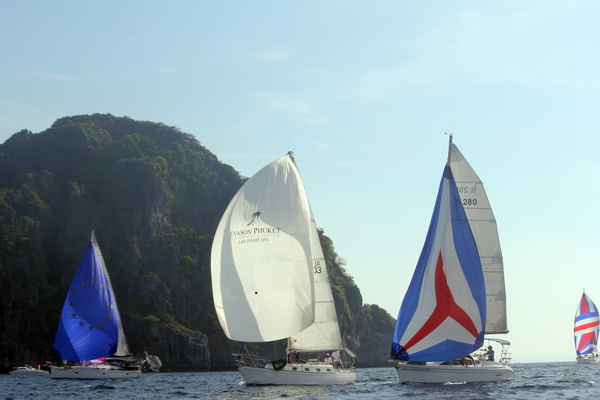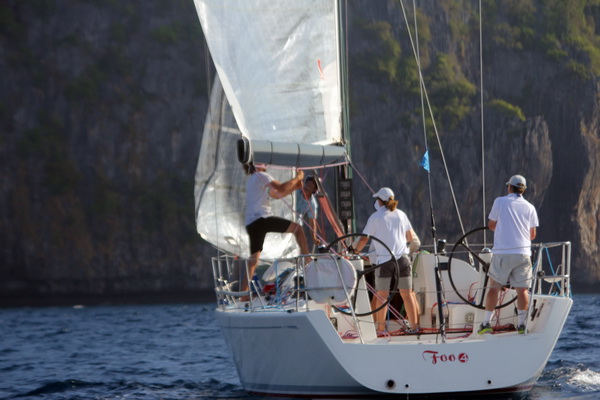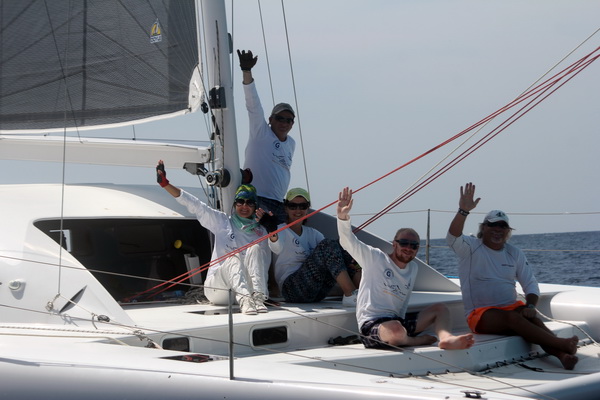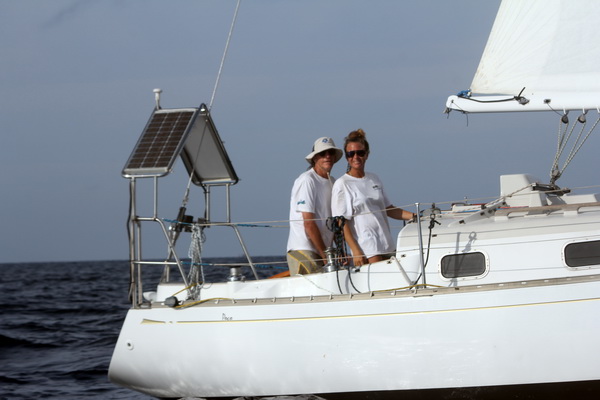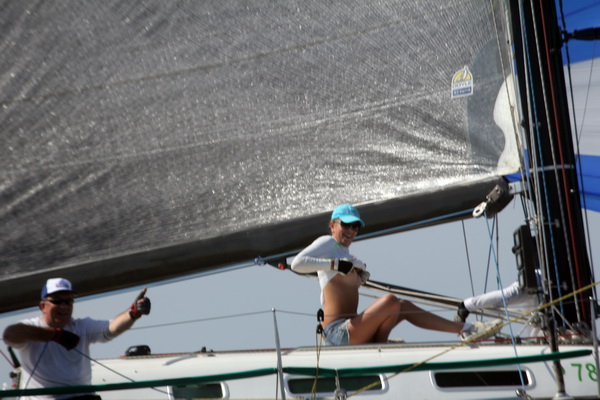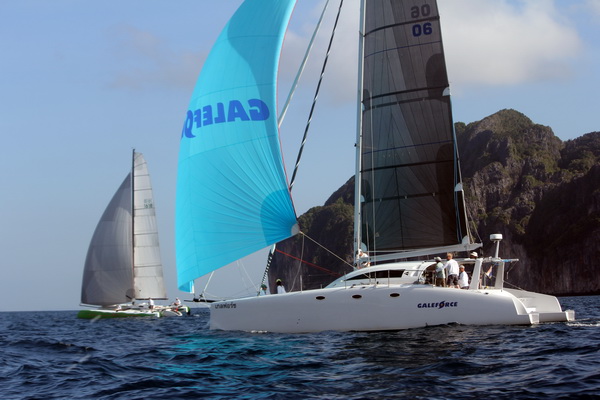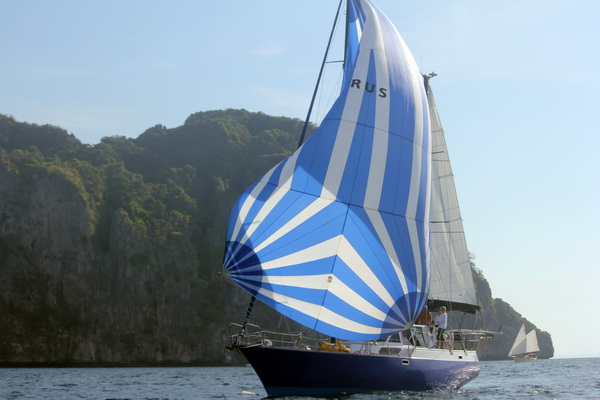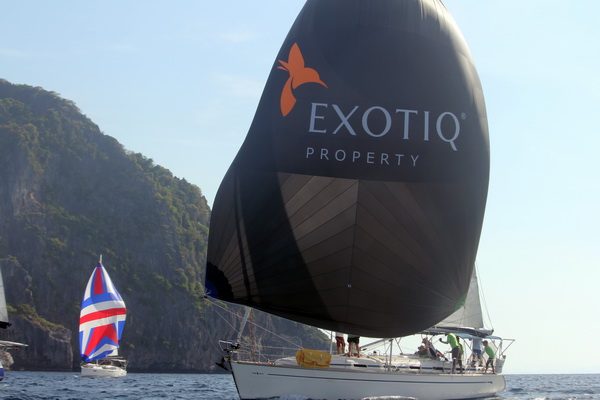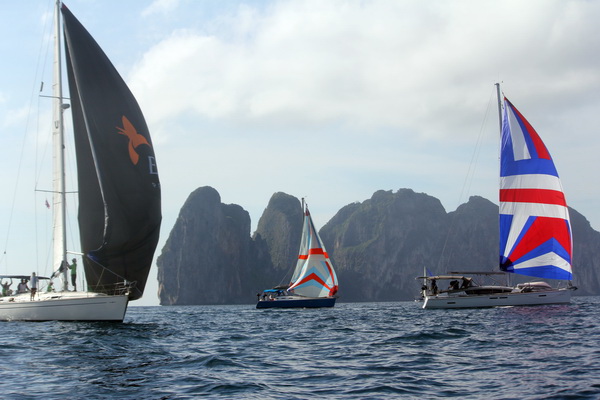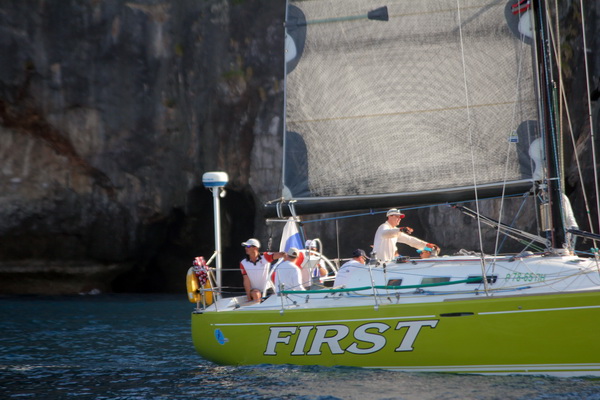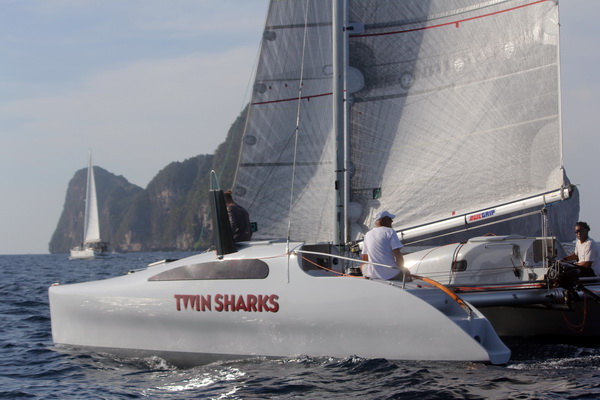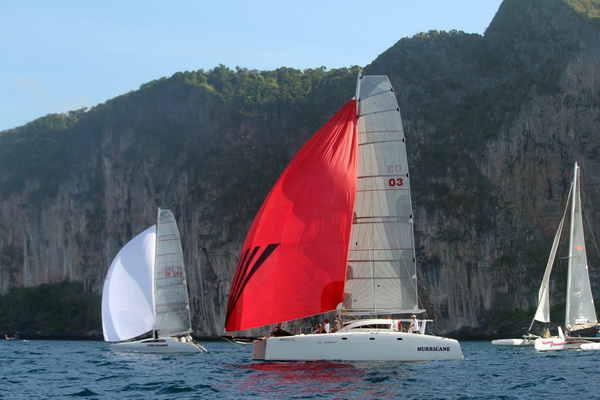 Good wind allowed PRO Simon James to get in one of the famous spinnakers runs that the Bay Regatta is renowned for as the competitors sailed from the start line off Phi Phi Don to Ao Chalong. Interestingly, committee boat Rendezvous acted as both the start boat, and then racing ahead as the finish boat itself with the other committee boat Tom Howard's Seraph acting as the gate off of Koh Maiton and eventually the finish line for the Cruising B class.
Adrenaline was first across the line on the final day with a time of 02:25:29, narrowly beating Hurricane (02:25:37) Twin Sharks (02:25:53) and Blue Noze (02:26:58) in a closely-grouped finish.
The much-hyped 40ft trimaran, a Formula 40, had teething problems in last year's regatta and had to withdraw early due to a collision with its support boat *Uravai, *but this year, it flew—grabbing line honours three times. On handicap Mark Horwood/Merv Owen's boat finished 7th with 23 points, but speed wise it kicked ass.
This year's racing class was won by Roland Dane's *Jessandra *11with a total of 5 points; second went to Fergus & Jennifer Wilmer's *Foo 4 *with 8 points; third to Evegeni Nikforov's *First *with 13 points; while Mick Tilden's *Fujin *was fourth with 16 points and Nicolay Vlasov's *Tiburon *was last with 18 points.
The multihull class saw John Coffin's Java take first overall with eight points. Second spot went to Alan Carwadine's Asia Catamarans *Hurricane, *who although they tied with Andrew DeBruin's Bullet with 12 points took second spot because of higher placings in their races. Andrew was sailing with his son Fin and Scott Duncanson.
Fourth place also saw a tie between John Newnham's Twin Sharks and Kiril Stashevsky's *Galeforce, *each with 20 points with the former getting the leg up because of higher race placings. George Eddings' Blue Nose took sixth overall with 22 points and Mark Horwood/Merv Owen's *Adrenaline *came seventh with 23 points. Last year, Grenville Fordham's Nina beat almost all the Stealths but this year the light wind relegated her to last with 36 points. Danny Moore's 3itch never seemed to find its groove either, coming in second last with 28 points.
On the final day of racing in Cruising A, Niels Degenkolw Phoenix (03:55:30) finished almost an hour ahead of second place Sansiri Windstar helmed by Ging Patinyakorn Buranrom (04:49:57). The only two other boats to finish on the final day in this class were Libby Boyd and the Chinese students from the Krabi Sailing School on *Mas Alegre, *who came in at 05:38:33, and Dominic Buchholz's *Venus Hunter *who finished at 06:14:41.
Venus Hunter won the "persistence award" on the final day; drifting backwards, dangerously close to the reef on Koh Maiton, on the opposite side of the white buoy forming the gate with committee boat Seraph, they continued to drift and drift much to the exasperation of the committee, only to finally right themselves and then sail back around the buoy, cross the finish line properly and grab 4th place in Cruising A with an elapsed time of 06:14:41. Linda, also in Cruising A, was caught drifting backwards parallel to *Venus Hunter *for a while, but the captain in his Scottish brogue declared he would fight another day and withdrew from the race leaving Venus Hunter to fight her way back solo.
In Bay Regatta history, no one captain, or boat, has won its class more often than Niels Degenkolw *Phoenix *and they did it again capturing Cruising A with 4 points; *Sansiri Windstar *was next with five; *Mas Alegre* was third with ten; Venus Hunter was fourth with 14; Linda fifth with 17 and *Allsail Uhuru *and *Sailom *finished tied for sixth with identical records at 20 points each.
Cruising B class saw the Gillows on Poco sweep all three of their races taking first place overall. The regatta's "courage award" went to Kevin Gillow, who after suffering a stroke last year, made a remarkable comeback to win this class with just his charming daughter Mia as the only other crew member.
Meg Wehrle's* Aqua* and Kevan & Sheila Perrins' Oyster 435 Rusalka ended up tied with eight points, but Aqua took second based on two second-place finishes. Fourth went to Steve Johnson's Bonobo (13 pts); Sergei Dikanov's *Rate *was fifth (17 pts); and sixth spot went to Rob Devlin's *SY Ravensong *(06:07:49), with *Toot Yai *fittingly bringing up the rear (23pts).
On the final day,* Toot Yai* finished at Phuket's Boat Lagoon, forgetting to notify the race committee leaving a few on the finish line scratching their heads and wondering where she went. Committee members had also given up on Bonobo, but she stuck it out finally appearing over the horizon and crossing the finish line last just before the 3:30pm cut-off time with an elapsed time of 06:32:40.
A channel race, this regatta took place over four days. It kicked off March 5th with an opening night party at Chandara Resort & Spa ( www.chandara-resort.com) near Ao Po Marina. Racing started the next day as yachts headed out in the direction of Koh Yao Noi, stopping in at the Paradise Koh Yao Boutique Resort & Spa (www.theparadisekohyao.com) for the evening's party. On the second day out the fleet set sail in light wind and headed for the P.P. Erawan Palms Resort on Phi Phi Don ( ), the site of the second night's party. For the third day of racing, the yachts sailed around the Phi Phi Islands with the evening's party being staged by Arayaburi/Bayview Resort Phi Phi (www.arayaburiphiphi.com). The final day of racing, saw competitors head back to Ao Chalong from Phi Phi, where upon finishing the regatta participants celebrated with a big bash and the final awards ceremony at the 02 Beach Club in Ao Chalong (www.o2beachclub.com).
Host sponsors for the regatta were the Chandara Resort & Spa, the Paradise Koh Yao Beach Resort & Spa, the Arayaburi Boutique Resort, the Bay View Resort, the PP Erawan Palms Resort and the O2 Beach Club.
Regattas Asia was the event organizer and The Tourism Authority of Thailand (TAT), the Yacht Racing Authority of Thailand (YRAT) and the Ao Chalong Yacht Club (ACYC) are the supporting authorities.
Local supporters included B&G, Canvas Creations, Electrical Marine, Quantum Sails, Octopus Electrical Services, Krabi Boat Lagoon, Phuket Boat Lagoon and SY Seraph. The official media partners are *SEA Yachting *and the *Greater Phuket Magazine.*
While regatta partners included Asahi, Asia Catamarans, Haad Thip, Jungceylon, Mont Clair, Singha Light, Neil Pryde and the Mangosteen.