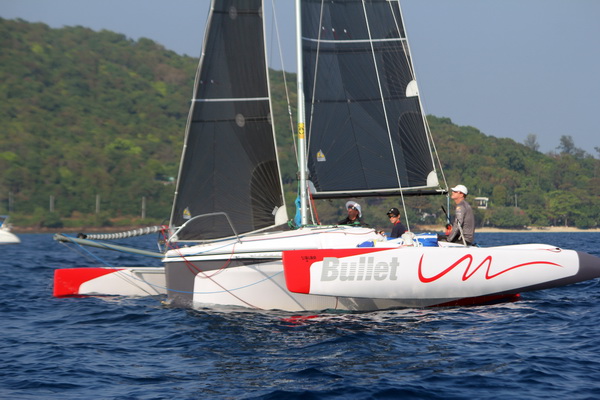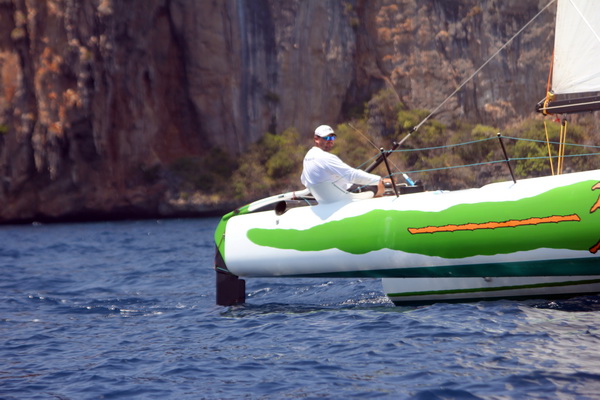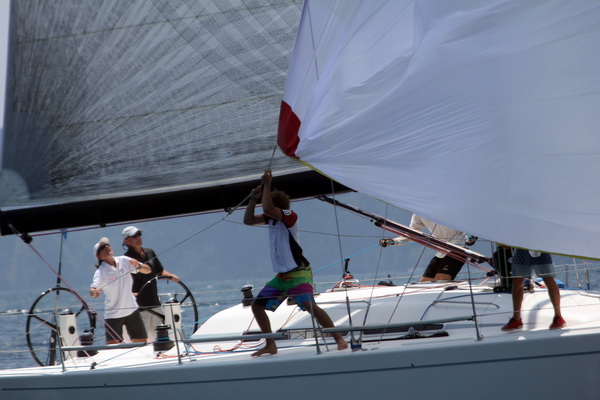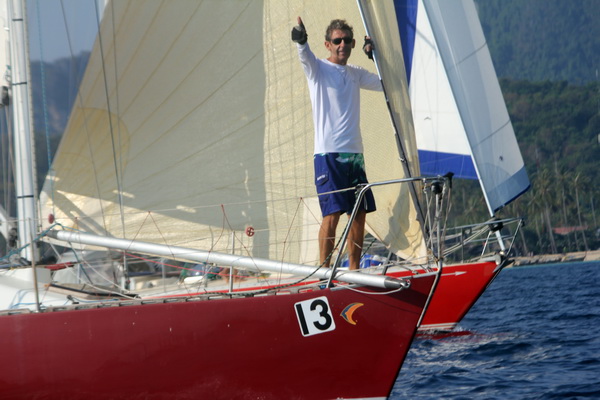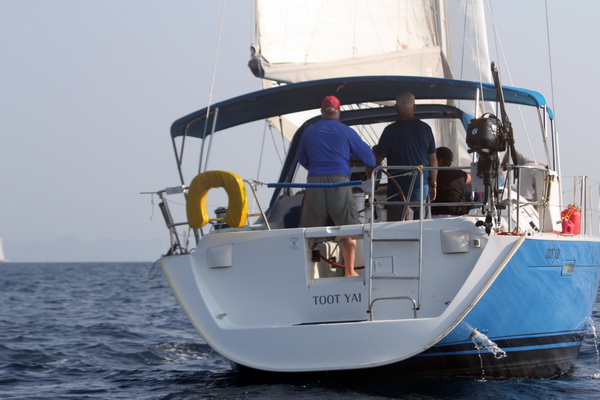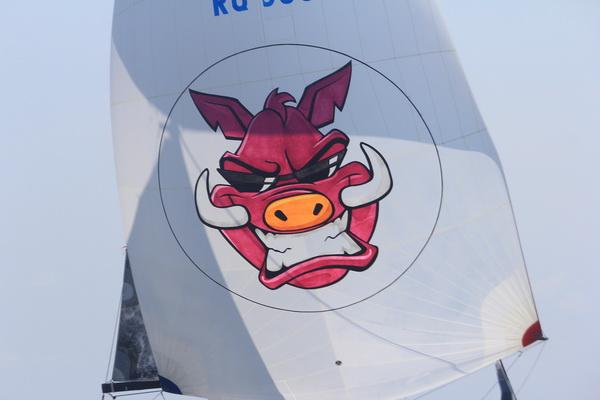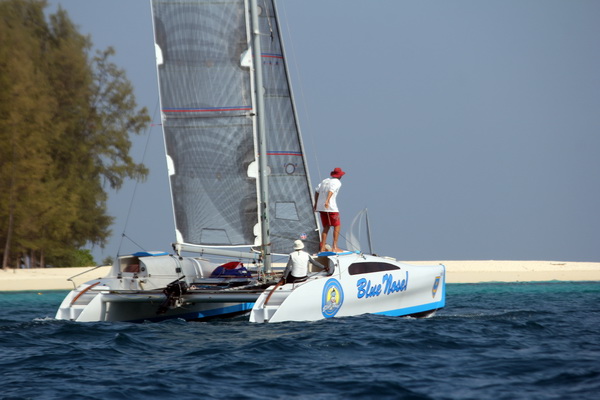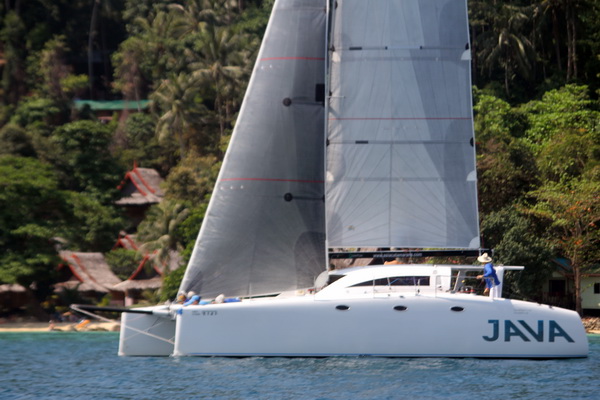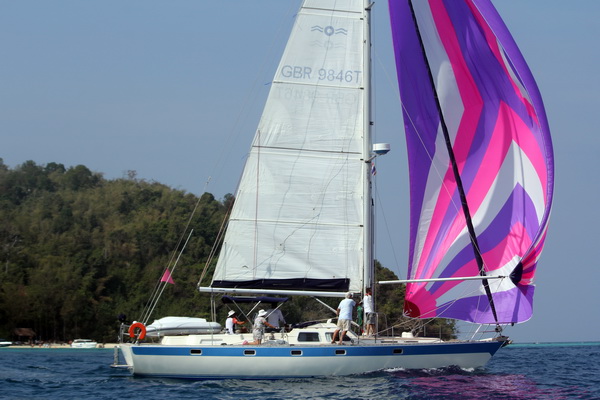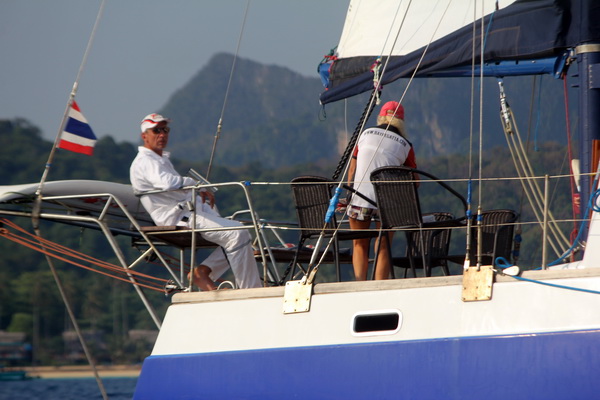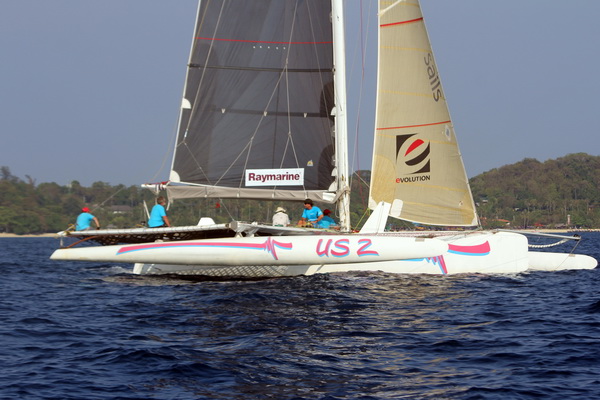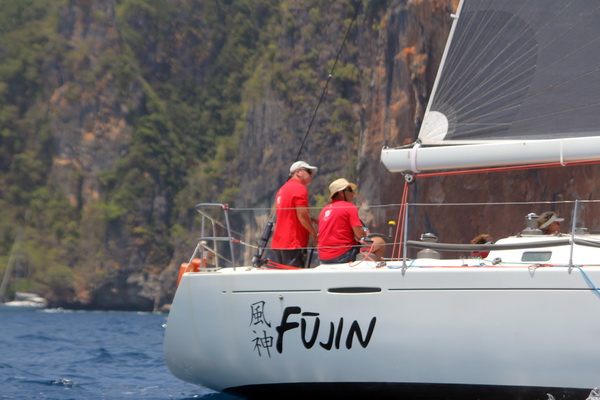 The wind gods came out to play this morning allowing the Bay Regatta's "Phi Phi Islands Race" to take place. PRO and race organizer Simon James sent the fleet off east of Leam Tong on Phi Phi Don; they headed out rounding Koh Mai Pai (Bamboo Island) and Koh Yung (Mosquito Island) to port then passing Hin Klang to port as well on through a gate, leaving the committee boat (Seraph) to starboard.
The sailors then headed down past Laem Hin at the southern tip of Phi Phi Don rounding Koh Bida Nai and Koh Bida Nok to starboard heading back towards Seraph at the finish line leaving Phi Phi Le (Koh Phraya Nak) to port.
The racing class was won by Roland Dane's Jessandra 11 for the second straight day with a corrected time of 04:58:54; second went to Fergus & Jennifer Wilmer's Foo 4 (5:05:48); third to Evegeni Nikforov's First (5:15:07); while Mick Tilden's *Fujin *was fourth (5:21:07) with Nicolay Vlasov's Tiburon (5:43:20).
The multihull class saw John Coffin's Java take first for the second straight day on 03:42:51. Second spot went to Alan Carwadine's Asia Catamarans Hurricane (03:45:40). Andrew DeBruin's Bullet (03:56:00), with third; fourth place went to John Newnham's Twin Sharks (04:08:10).
Mark Horwood/Merv Owen's *Adrenelin *was first over the line over-all for the second straight day but after corrected time dropped down to fifth spot (04:09:48); sixth spot went to George Eddings' Blue Nose (04:16:01) and seventh spot went to Danny Moore's 3itch (5:11:23).
At the ten nautical mile mark Kiril Stashevsky's Galeforce (06:23:10) was 10 miles back so the committee decided to award them 8th spot with an FPA.
Grenville Fordham's *Nina, *again suffered as the wind died and did not finish though his crew with their painted faces continued to win the most colourful crew contest.
In the cruising A class Niels Degenkolw Phoenix (03:21:26) finished well ahead of second place Sansiri Windstar helmed by Thai national Ging Patinyakorn Buranrom (04:28:49) with Jack Christensen's Linda coming third (5:01:05). Libby Boyd and the Chinese students from the Krabi Sailing School on *Mas Alegre *took fourth (05:03:17).
After over five-and-a-half hours on the water, the three final boats in this class (Jeff Hook's Sailom, *Dominic Buchholz's *Venus Hunter and Russell Waddy's *Allsail Uhuru) *crossed the finish within a minute of each other on elapsed time with Sailom crossing at 06:29:30; Venus Hunter at 06:30:11; and *Allsail Uhuru *at 06:30:07.
Cruising B saw the Gillows on Poco repeat in first (04:58:21); with second going to Kevan & Sheila Perrins' Oyster 435 Rusalka (05:15:40); third to Sergei Dikanov's *Rate *(05:35:23); fourth to (06:06:27); and fifth to Steve Johnson's Bonobo (06:07:49). *Toot Yai *and *SY Ravensong *did not finish in this class.
The party and awards ceremony was held at the Arayaburi/Bay View Resort, which hosted the evening party and award's ceremony with Claire Mossop long-time committee-member doing the honours as MC.
Host sponsors for the regatta are the Chandara Resort & Spa, the Paradise Koh Yao Beach Resort & Spa, Arayaburi Boutique Resort, Bay View Resort, PP Erawan Palms Resort and O2 Beach Club.
Regattas Asia is the event organizer and The Tourism Authority of Thailand (TAT), the Yacht Racing Authority of Thailand (YRAT) and the Ao Chalong Yacht Club (ACYC) are the supporting authorities.
Local supporters include B&G, Canvas Creations, Electrical Marine, Quantum Sails, Octopus Electrical Services, Krabi Boat Lagoon, Phuket Boat Lagoon and SY Seraph. The official media partners are *SEA Yachting *and the *Greater Phuket Magazine.*
While regatta partners include Asahi, Asia Catamarans, Haad Thip, Jungceylon, Mont Clair, Singha Light, Neil Pryde and the Mangosteen.
To give all boats in this class a better chance, Cruising B raced under the new NHC performance handicap system, which the Bay Regatta first employed last year.
The regatta features a different anchorage and party every night and the average course is about 20 miles long.
The committee boats are the 104-yr-old Seraph (70ft with bowsprit) and the power cat Rendezvous, built by Asia Catamarans. They were graciously supplied by Tom Howard and Alan Carwardine, respectively.