The 18th Bay Regatta: Phuket, Phang Nga & Krabi set sail on the morning of March 5th after an opening night party and buffet the evening before at the Chandara Resort & Spa on Ao Po. PRO and regatta organizer Simon James welcomed everyone and laid out the ground rules at the skipper's briefing.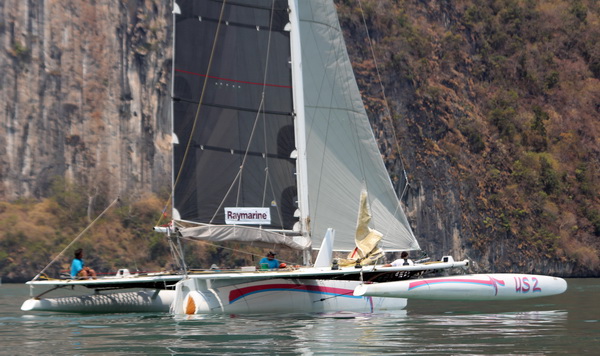 The first course was 17 miles long; starting of Koh Naka Yai as the participants sailed north leaving Koh Phanak and Koh Na Ka Ya to port before rounding the first mark, northeast of Koh Yai, to starboard and then heading towards Koh Yao Noi leaving Hin Mot Daeng to port and Koh Batang to starboard before finishing off of Koh Kudu Yai.
Four classes are competing in this regatta flying the flags of many nations. Affectionately known as the "Fun Regatta" to all participants, countries represented included Thailand, the USA, UK, Canada, China, Germany, Denmark, Singapore, Australia, Russia, and Indonesia
The five-boat Racing Class featured two Russian boats: Evgenil Nikiforov's First and Nichlay Vlasov's Tuburon; along with Fergus & Jennifer Wilmer's Foo 4 (CAN), Mick Tilden's Fujin (AUS) and Michael Spies Jessandra II (AUS).
There was little wind on day one but all classes did manage to get in one shortened race each.
Foo 4 came first in the Racing Class followed by Jessandra II and Tiburon. First placed fourth and Fujin was fifth.
Cruising yachts in the regatta are divided into two classes: Cruising A has seven yachts including Niels Degenkolw (DEN) and his 3/4 ton Phoenix. Also competing in Cruising A is Sansiri Windstar helmed by Thai national Ging Patinyakorn Buranrom. Then there's Russell Waddy's Allsail Uhuru (AUS); Woodrow Christensen's Linda (US); Dominic Buchholz's Venus Hunter (GER); Jeff Hock's Sailom (AUS); and Libby Boyd (CHN) skipping a bunch of Chinese students from the Krabi Sailing School on Mas Alegre.
Cruising A IRC Class first day action results saw Windstar finish first followed by Phoenix in second and Mas Alegre in third. Venus Hunter, Allsail Uhuru, Linda, and Sailom followed in that order.
As this is the first day, there is no change in the positions using the NHC Handicap System for this class. But tomorrows results will effect ratings for tomorrows race.
The seven-boat Cruising B class sees the return of the Gillows on Poco (THA) as well as Mig Wehrle's Aqua (THA) and Kevan & Sheila Perrins on their Oyster 435 Rusalka (GBR). Also competing in this class is Greg Brennan's Toot Yai (AUS); Steve Johnson's Bonono (AUS); Sergei Dikanov on Rate (RUS); and Rob Devlin's Ravensong (AUS).
First day results for Cruising B based on NHC Performance rating saw Poco first, followed by Aqua, then Rusalka, Bonobo, Ravensong, Rate and Toot Yai.
The nine-boat Multihull Class featured Adrenaline (THA), "one of the most interesting trimarans ever built." This record breaking Formulae 40 trimaran, now based in Phuket, is sailed by a veteran team from the Ao Chalong Yacht Club, skipped by Mark Horwood & Merv Owen. Also competing in the class were John Newnham's Twin Sharks (GBR), Phuket-based multihull designer Alan Carwadine's Asia Catamarans Hurricane (THA). Rounding out the class are Grenville Fordham's Nina (THA), John Coffin's Java (CHN), Kirill Stashevsky's Galeforce (RUS), Andrew DeBruin's Bullet (AUS), George Eddings' Blue Noze (GBR) and Danny Moore's 3itch (INA).
First-day results saw Bullet win followed by Java and Galeforce. Rounding out the field in order were 3itch, Adrenaline, Asia Catamarans Hurricane, Blue Noze, Twin Sharks, and Image Asia's Nina.
The hallmark of this event is a casual, fun-filled atmosphere. Many friends join together to sail the four-day event and while the sailing is serious for many, a large number of cruisers join for the experience of sailing through some of the world's most amazing maritime scenery.
Host sponsors for the regatta are the Chandara Resort & Spa, the Paradise Koh Yao Beach Resort & Spa, Arayaburi Boutique Resort, Bay View Resort, PP Erawan Palms Resort and O2 Beach Club.
Regattas Asia is the event organizer and The Tourism Authority of Thailand (TAT), the Yacht Racing Authority of Thailand (YRAT) and the Ao Chalong Yacht Club (ACYC) are the supporting authorities.
Local supporters include B&G, Canvas Creations, Electrical Marine, Quantum Sails, Octopus Electrical Services, Krabi Boat Lagoon, Phuket Boat Lagoon and SY Seraph. The official media partners are SEA Yachting and the Greater Phuket Magazine.
While regatta partners include Asahi, Asia Catamarans, Haad Thip, Jungceylon, Mont Clair, Singha Light, Neil Pryde and the Mangosteen.
To give all boats in this class a better chance, Cruising B raced under the new NHC performance handicap system, which the Bay Regatta first employed last year.
The regatta features a different anchorage and party every night and the average course is about 20 miles long.
The committee boats are the 104-yr-old Seraph (70ft with bowsprit) and the power cat Rendezvous, built by Asia Catamarans. They were graciously supplied by Tom Howard and Asia Catamarans, respectively.