Fugazi soars across Bay Regatta to earn line honours in day one
Fugazi, helmed and recently sold by builder Danny Moore, took advantage of some good early wind to fly through the course on day one of the 2018 Bay Regatta taking line honours in 3:50:02. On corrected time, with her handicap, this ended up being a time of 3:59:19 (for seventh spot in her class), but boy, did Fugzai catch good wind as she soared through the stunning karst topography.
Held from 1st to 4th February, The Bay Regatta is a series of passage races – an event format that catches the attention of sailors from around the world with participants coming from as far afield as Australia, Russia, the UK and Canada to compete in six classes (Racing Class, Cruising A, Cruising B, Bareboat Charter, Racing Multihulls and Cruising Multihulls)
This four-day circumnavigation of Phang Nga Bay takes in three of southern Thailand's most scenic provinces–Phuket, Phang Nga and Krabi–with the emphasis is on fun. Attracting the serious, the not-so-serious and the not-at-all-serious "racing" sailors, the regatta appeals to an international mix who enjoy the stunning sailing grounds of the area and a different destination each evening.
Each evening, the regatta anchors at a different venue and the sailors go ashore. Those staying ashore – more than 60% of the fleet – book accommodation and either eat in the local restaurants or enjoy the official event functions which engage with the local community. Most of the expenditure of the regatta goes directly into the local economies of the areas we visit – this has been the case since the regatta was launched and it will remain so for the future—an excellent example of how sports tourism works to the benefit of communities and local economies.
Starting in Ao Po on Phuket's east coast, after registration and an opening party yesterday evening at Chandara Resort & Spa, the yachts raced north through the stunning rocky outcrops of Phang Nga Bay finishing off Koh Yao Noi, where yachts anchored and enjoyed a prize-giving party on the beach at Koh Yao Chukit resort.
The actual race started at Koh Naka Yai, then the participants sailed north leaving Koh Phanak and Koh Na Ka Ya to port before rounding the first mark, northeast of Koh Yai, to starboard and then passing Hin Mot Daeng to port and Koh Batang to starboard before finishing off of Koh Kudu Yai – approximately 17 nautical miles in length.
PRO and race organizer Simon James had two starts for the competitors today: first off were all the monohulls (21 boats) followed by all the multihulls (12 boats). There were no real glitches, or incidents, on the course as sailboats deftly dodged the longtail fishing boats and fishing lines as they made their way across Phang Nga Bay.
As time progressed and the wind died down, the course was shortened to approximately ten nautical miles for the cruising B, multihull cruising, bareboat cruising classes.
In the Racing Class, Russian boats have proved to be the class of the fleet the last few years and today was no different. Uminoko skipped by Vitalii Plaksin was third across the finish, but on corrected time took first overall. Megazip (a former Bay Regatta winner), skipped by Sergey Khamstov placed second overall with Aussie Gary Baguley, sailing with many of his family members on board Fujin, coming in third on corrected time. Steve Manning's Red Rum took last spot four-boat class on the day.
In Cruising A, Niels Degenkolw's Phoenix, who was won this regatta numerous times claimed first overall with his all-female crew, finishing fifteen minutes ahead of Aussie Palleschi's Prime Factor on corrected time with Stanislav Pechenkin's Russian crew Southern Breeze 3 coming in a distant third in this eight-boat class.
Cruising B saw Mig Wehrle's Aqua beat Ket Mangklaseranee's Marigold on both elapsed and corrected time as these two boats were the only ones to finish racing on this day as Greg Brennan's Toot Yai and Woodrow Christensen's Linda retired due to light wind and Isabella a late replacement for Farrgo Express, who damaged her rudder entering the passage to Ao Po last night, registered a DNF.
The Russians were the only nationality to take two classes on the day also capturing the Bareboat Class with Venture skippered by Denis Aksenov finishing three hours ahead of Kinnon, helmed by George Brown. Andrew McDermott's Fei Jian and Russell Waddy's AllSail Kingman retired due to light winds.
John Newnham's crew on Twin Sharks has been together a long time and they just know how to get it done. Though they finished second on elapsed time (5 & ½ minutes after Fugazi); when the handicap was applied they claimed first overall in the Multihull Racing class. Asia Catamarans Hurricane, who were third on elapsed time, finished second overall on day one in the ten-boat class, while Blue Nose snuck into third spot.
Multihull cruising saw Robert Hossack's Raptor 2001 finish almost five minutes ahead of Rick Fielding's Mojo on corrected time; the two boats have a strong rivalry, as they battle it out in many Phuket regattas and will duke it out again in this two-boat class.
The Bay Regatta takes sailors through the three provinces of Phuket, Phang Nga and Krabi allowing participants to experience the best of southern Thai hospitality and the unrivaled sailing grounds in the area. They sail amongst 200-metre high karsts and past hidden bays on their way to a party under-the-stars on an idyllic beach.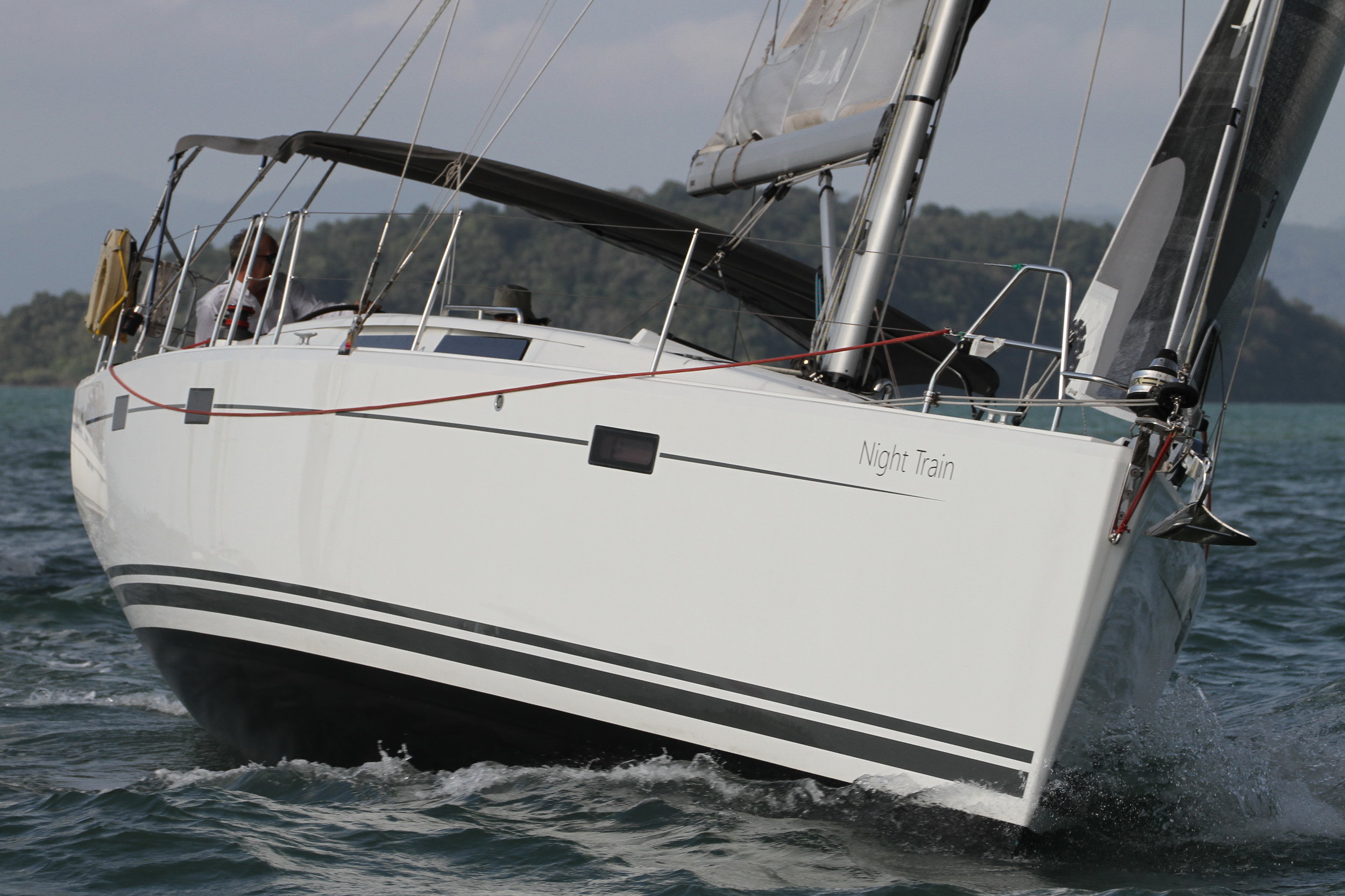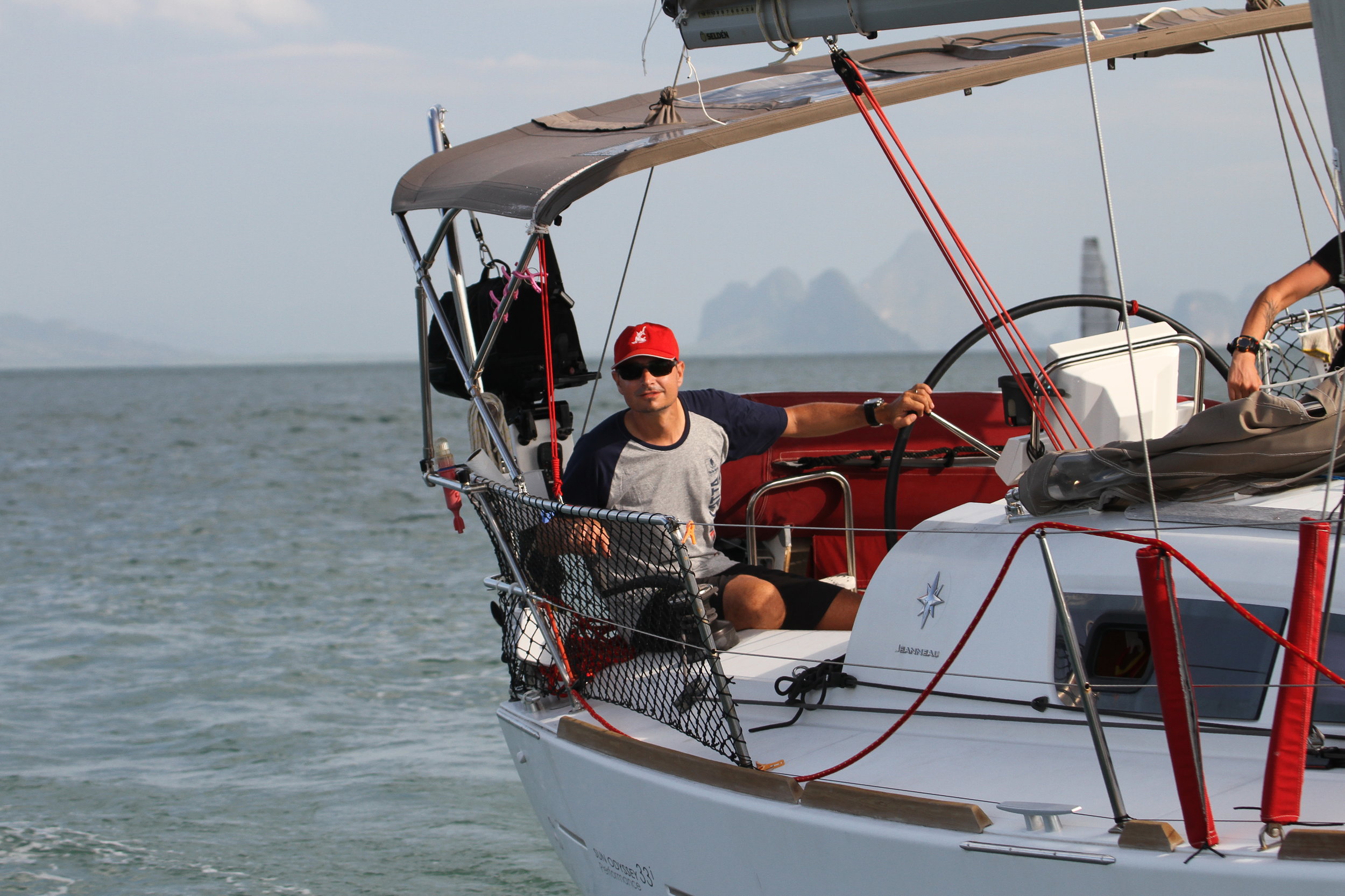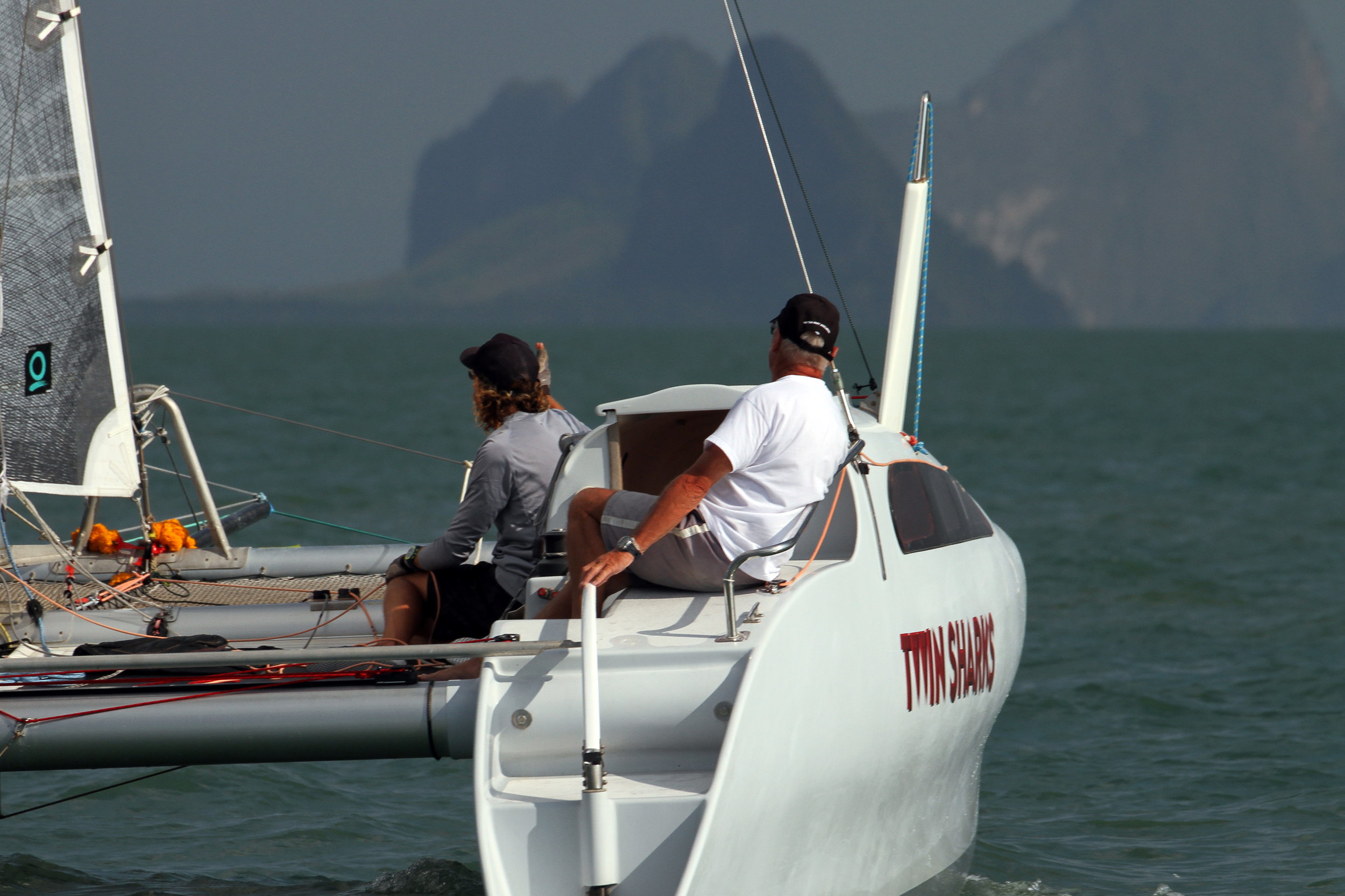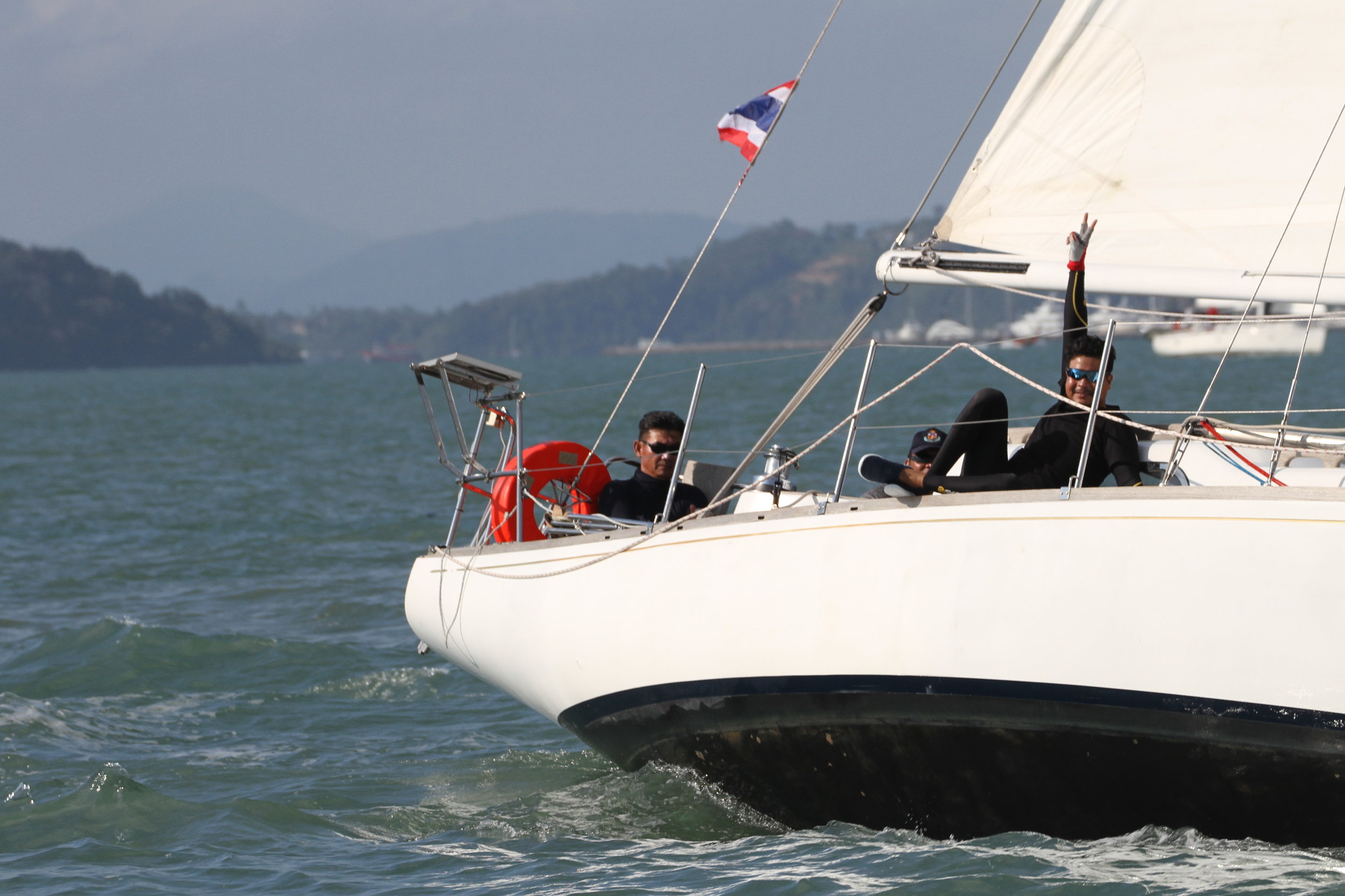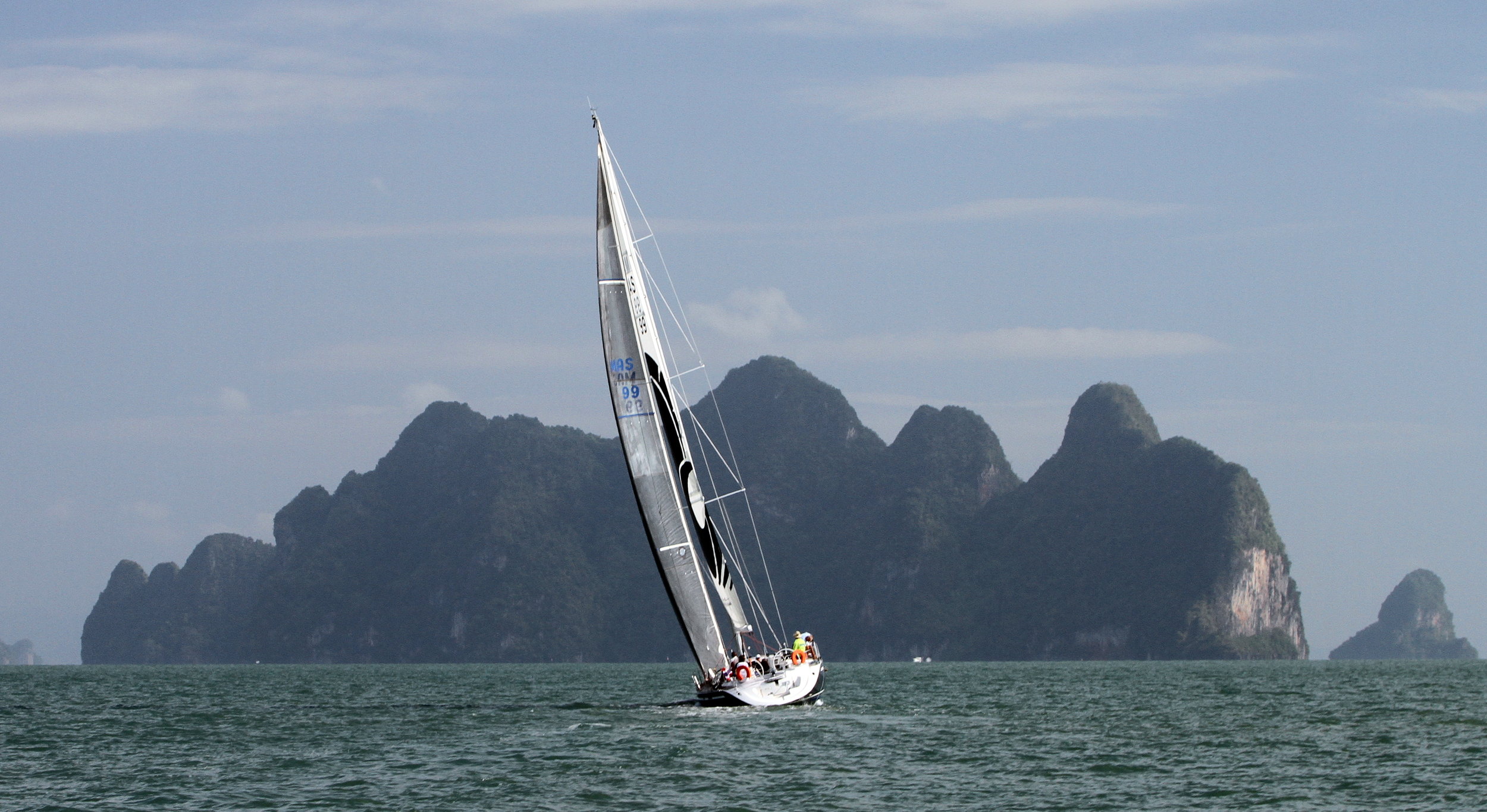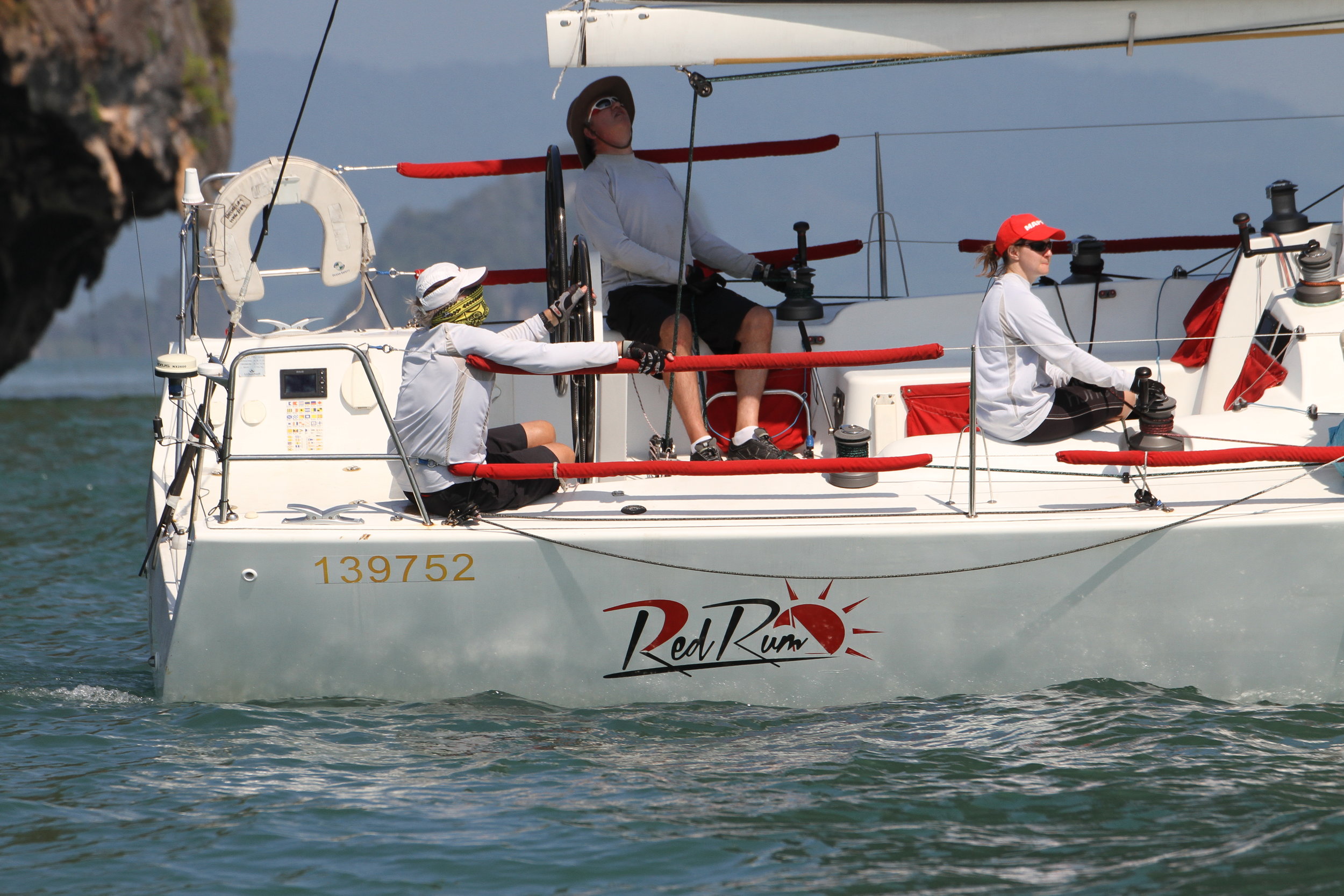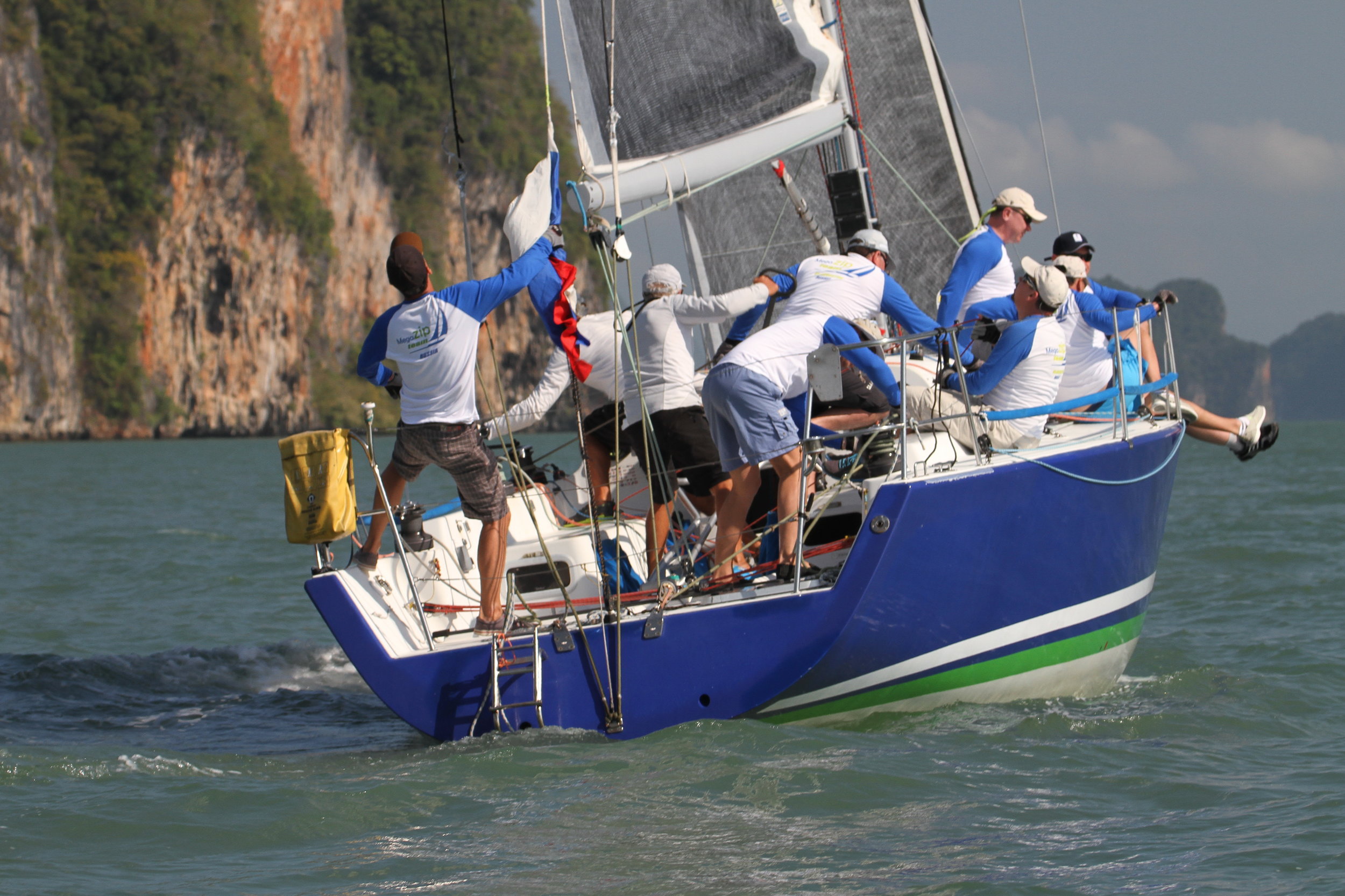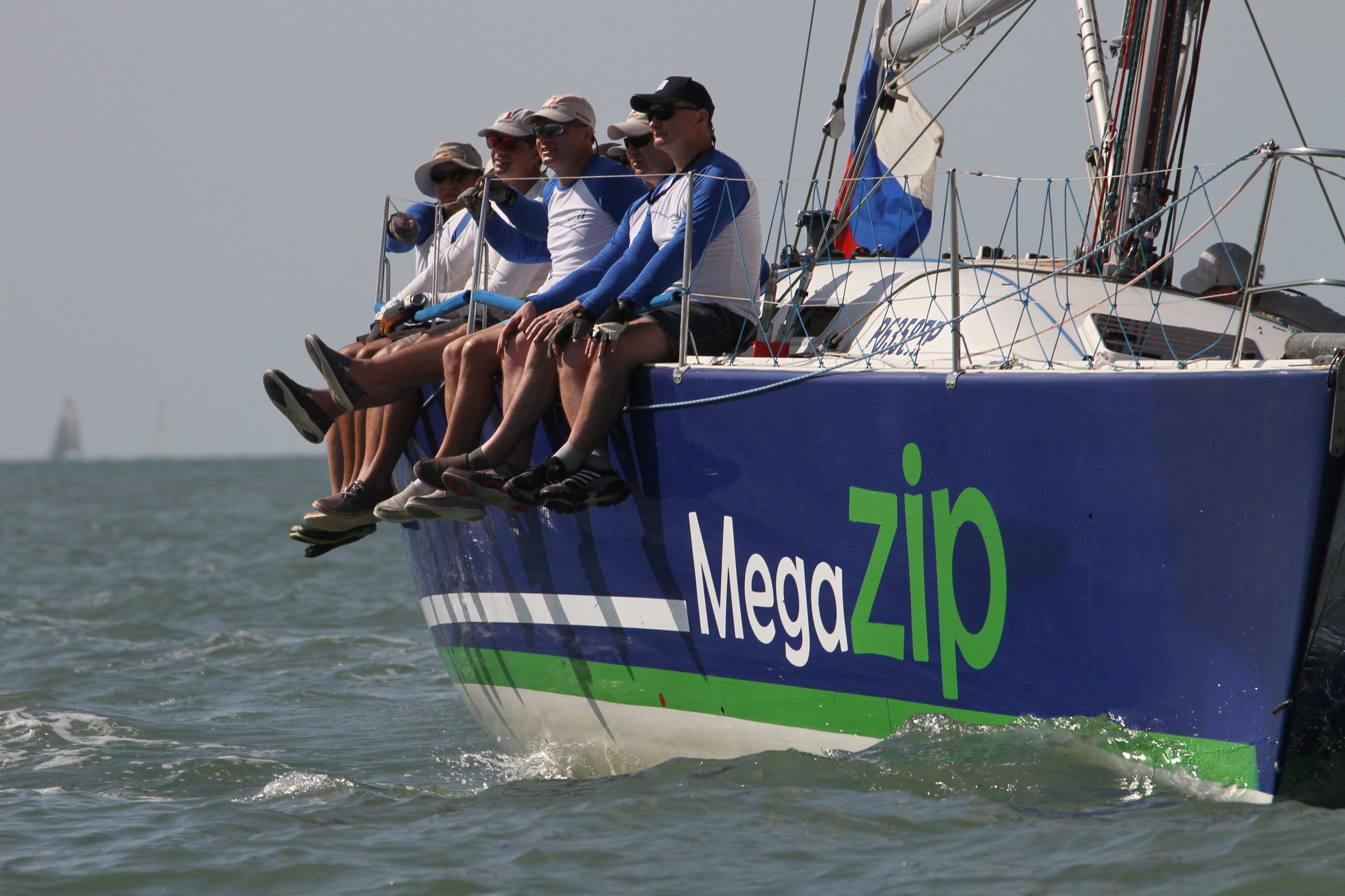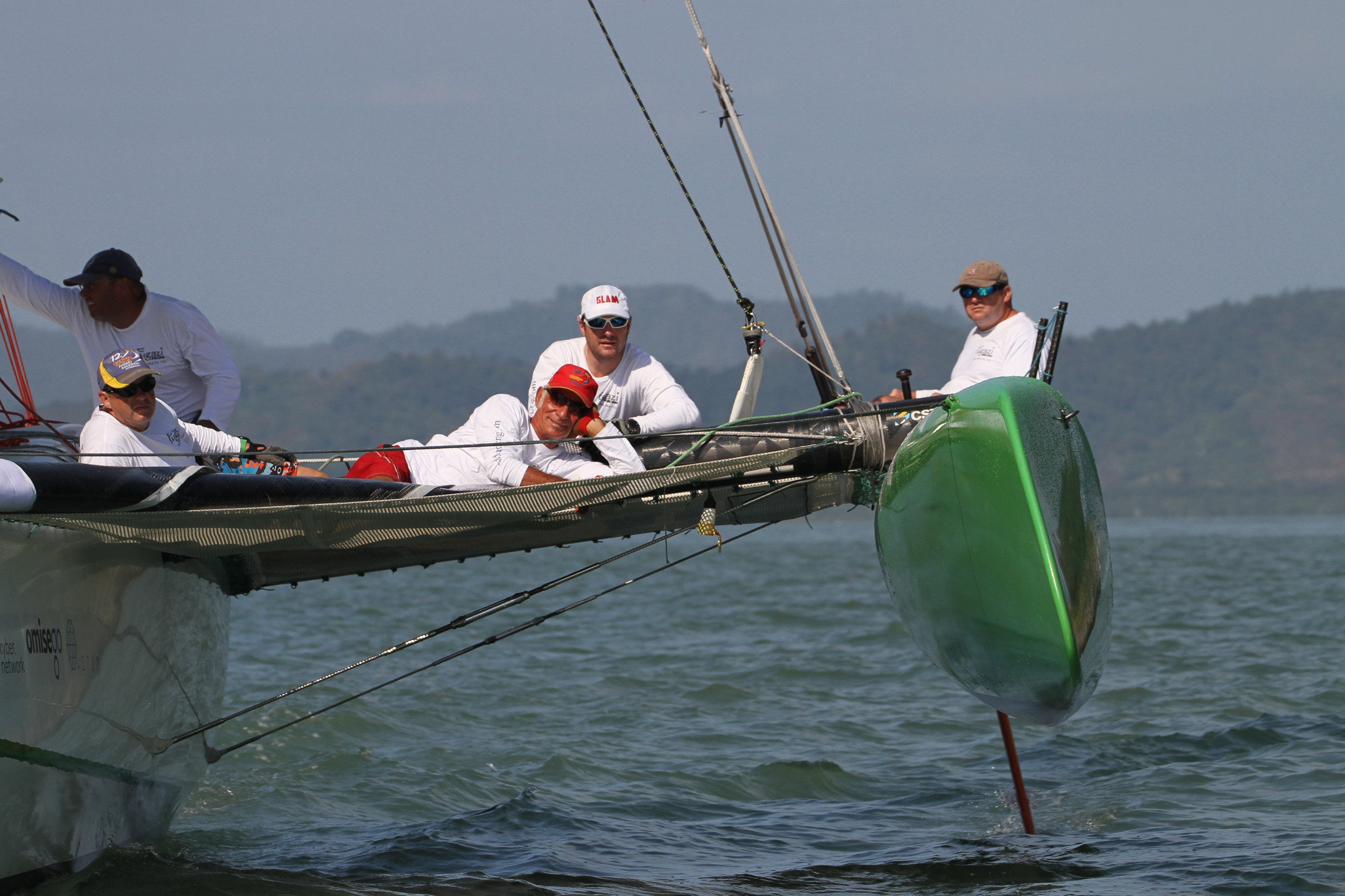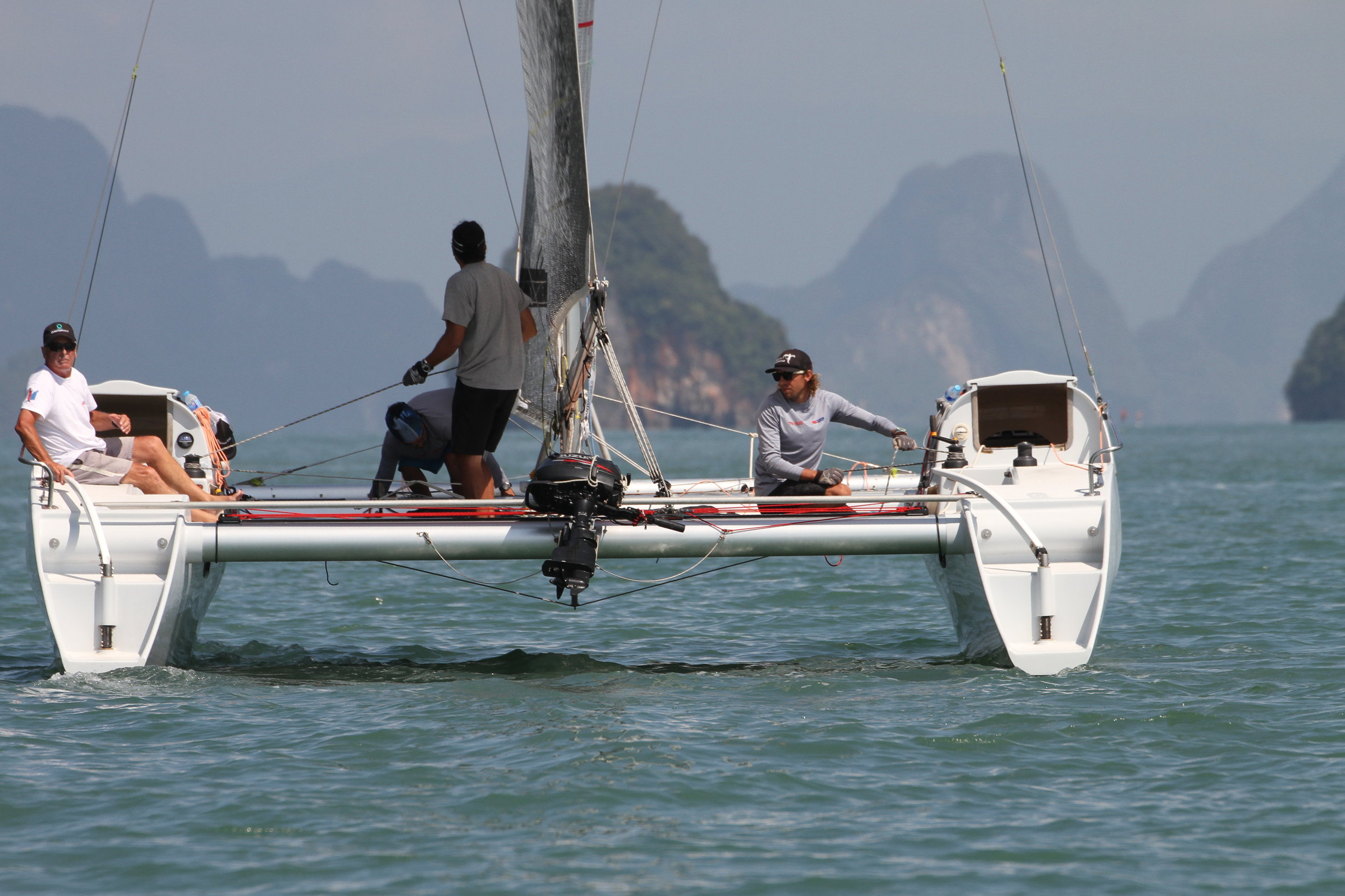 About The Bay Regatta
The Bay Regatta was launched in 1998 by a group of Phuket-based sailing enthusiasts and a photographer who wished to showcase the stunning beauty of the Phuket/ Phang Nga/ Krabi seascapes.
Co-Sponsors: Chang Beer Tourism Authority of Thailand, Thai Beverage Public Company Limited, Chang, Mekhong, the Shellsea Krabi, and Raymarine, Budget Car & Truck Rental.
Regatta Partners: Jungceylon, Phuket Boat Lagoon, TIPLife Chandara Resort & Spa, Kan Eang II, Haadthip, O2 Beach Club, Tonsai, East Marine, Port Takola, Koh Yao Chukit and Ao Nang Villa.
Local Supporters: B & G, Infinity Communications, Prestige Marine, Octopus Marine. The Mangosteen Resort & Spa, Electrical Marine and Epic Charters.
Media Partners: The Phuket News, SEA Yachting, One Coast magazine, Check In, MDA, aBoat.
The Bay Regatta is organised by Regattas Asia under the auspices of the Phuket Yacht Club in conjunction with the Yacht Racing Association of Thailand, TAT, the Provinces of Phuket, Phang Nga and Krabi and Thailand's National Parks Authority.
For more information, visit www.bayregatta.com or www.facebook.com/bayregatta (Detailed courses can be viewed at www.bayregatta.com/courses).
About Regattas Asia
Regattas Asia is a brand name of Phuket and More Co. Ltd., established in 2001 with over 15 years' involvement in the organisation of leading marine events in Asia. Regattas Asia has become a prominent player in Asia's regattas industry, with an innovative approach to the management of major sailing events in the region, and provides services to the following events: Phuket King's Cup Regatta, Cape Panwa Hotel Phuket Raceweek, Sabang International Regatta (Indonesia), Royal Langkawi International Regatta (Malaysia), Hainan Around the Island Regatta (China), China Cup International Regatta.
Regattas Asia are sole organisers of The Bay Regatta and Samui Regatta (www.regattas.asia).